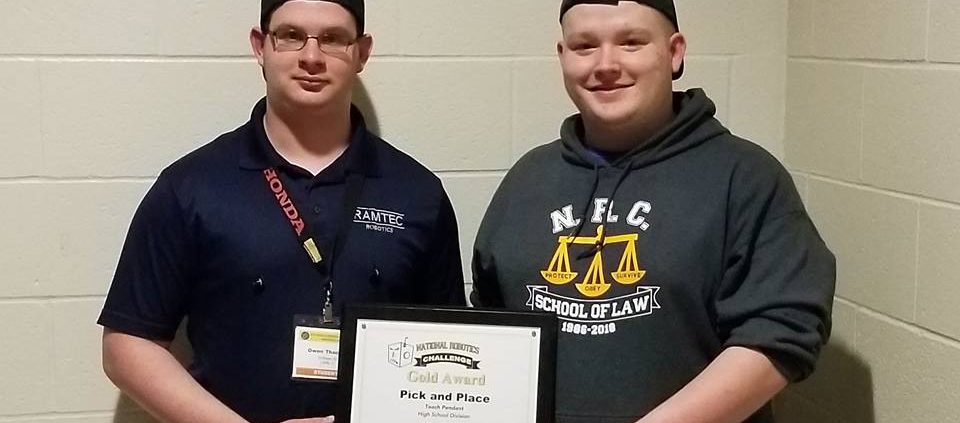 The 2018 National Robotics Challenge held on the Marion County Fairgrounds at the Veterans Memorial Coliseum April 12-14 was a huge success. More than 1,000 young people participated in the event.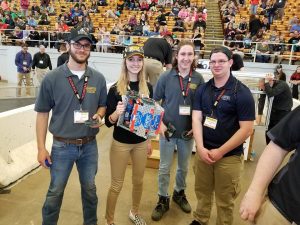 Students from colleges, high schools, middle schools and elementary schools competed—more than 80 schools overall.
The event has been held in Marion since 2004. For more details on the National Robotics Challenge, visit: http://www.thenrc.org/
Below are the Award recipients in each category. The team captain's name is in parentheses.
Honda Innovation Award
Winner:
Adventure Bots (Chad Savage)
Nominees:
• Autonomous Vehicle Challenge: Circleville High School (Brandon Throckmorton)
• Bot Ball: Campbell Home School (Ethan E. Campbell)
• Internet of Things: Benjamin Logan High School (Colton Jones)
• Manufacturing Robotic Work Cell: Wadsworth High School (Garret Freund)
• Pick & Place Programming: Tri-Rivers Career Center (Matt Craig)
• Rescue Robot: River Valley High School (Logan Glosser)
• Robo Hockey: Montpelier High School (Jared W. Rediger & Colin P. Rockey)
• Robot Maze/Non-tactile: Chippewa High School (Emma Powers)
• Robot Maze/Tactile: Geauga Engineering & Robotics 4-H Club (Gregory Wenner)
• Sumo Lightweight: Indiana Tech Explorer Post 2829 (Michael Langford)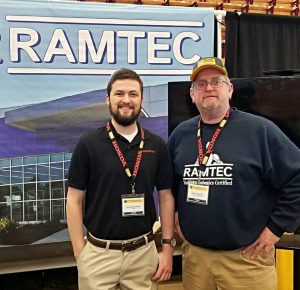 Autonomous Vehicle Challenge
High School
Gold: Highland High School (Nefi Bumpus)
Silver: Circleville High School (Jarrett Quincel)
Bot Ball
High School
Gold: River Valley High School (Josh Strine)
Silver: River Valley High School (Levi Goins)
Bronze: Upper Sandusky High School (Seth Mawer)
Middle School
Gold: The Wellington School (Will Miller)
Silver: Tallmadge Middle School (Dylan Donnell)
Bronze: Tallmadge Middle School (Spencer Fleming)
Combat Robot
Postsecondary
Gold: Case Western Reserve University (Rachel Pokhama)
Silver: Purdue University (Joshua Patel)
Bronze: Middle Tennessee State University (Wenbo Dong)
High School
Gold: Adventure Bots (Chad Savage)
Silver: Highland High School (Evan Walter)
Bronze: Ayb High School (Simon Zohrabyan)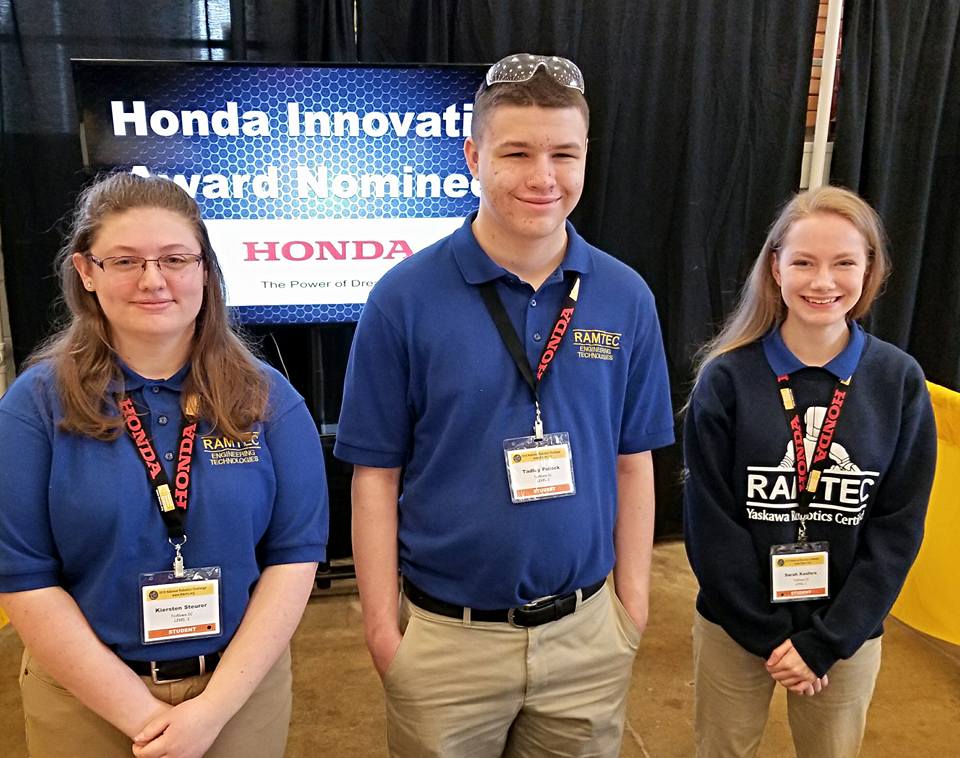 Middle School
Gold: Hastings Middle School (Kaya Ceyhan)
Interactivity Challenge
High School
Gold: Ridgedale High School (Liam Parsell)
Silver: Marion Harding High School (Nathaniel Thacker)
Bronze: Marion Harding High School (Dan Rollins)
Middle School
Gold: The Wellington School (Allison Klingler)
Silver: The Wellington School (Liam Ross)
Bronze: Hastings Middle School (Rena Zhao)
Internet of Things
High School
Gold: Marion Harding High School (Dan Rollins)
Silver: Benjamin Logan High School (Colton Jones)
Bronze: Circleville High School (Jarrett Quincel)
Manufacturing Robotic Work Cell
Postsecondary
Gold: Ohio Northern University (Scott Rapps)
Silver: Indiana Tech (Kyle R. Taylor)
Bronze: Indiana Tech (Alawi A. Agroomah)
High School
Gold: Wadsworth High School (Garret Freund)
Silver: Toledo Technology Academy (Ian Denner)
Bronze: Harding High School IPT (Dawon Denney)
Mini-Sumo
Postsecondary
Gold: Middle Tennessee State University (Wenbo Dong)
Silver: Indiana Tech Explorer (David Langford)
Bronze: Middle Tennessee State University (Jacob Pawelski)
High School
Gold: Indiana Tech Explorer (Matthew Willets)
Silver: Circleville High School (Alex Ell)
Bronze: River Valley High School (Ty Garrett)
Middle School
Gold: Indiana Tech Explorer (Julia Langford)
Silver: The Wellington School (Owen Roth)
Bronze: Troop 86 (Gabriel Douce)
Pick & Place Programming Teach Pendant
High School
Gold: Tri-Rivers Career Center (Matt Craig)
Silver: Tri-Rivers Career Center (Jordan Bush)
Bronze: Tri-Rivers Career Center (Sam Hostetter)
Pick & Place Programming Computer Controlled
High School
Gold: Olmsted Falls High School (Stephanie Schroth)
Rescue Robot
High School
Gold: River Valley High School (Logan Glosser)
Silver: Tri-Rivers Career Center (Kaleb Taylor)
Bronze: Upper Sandusky High School (Noah Cheney)
Middle School
Gold: Indian Valley Middle School (Payne Landis)
Silver: Geauga Engineering & Robotics 4-H Club (Grant Congdon)
Bronze: Geauga Engineering & Robotics 4-H Club (Gregory Wenner)
Robo Hockey
High School
Gold: Manufacturing Technology (Jacob Bieri-Brintnall)
Silver: Wadsworth High School (Adam Hinkle)
Bronze: Montpelier High School (Colin P. Rockey)
Middle School
Gold: Indian Valley Middle School (Cullen Gump)
Silver: Ridgedale Junior High School (Dylan Collins)
Bronze: Tallmadge Middle School (Richie Day)
Robot Construction
Postsecondary
Silver: Cedarville University (Daniel Parker)
Bronze: Cedarville University (Ailin Leong)
High School
Silver: Winter-Crowder Robotics Club (Michael Winter)
Middle School
Silver: Winter-Crowder Robotics Club (Brodie Crowder)
Robot Maze/Non-tactile
Postsecondary
Gold: Indiana Tech Explorer Post 2829 (Chad Trowbridge)
High School
Gold: Indiana Tech Explorer Post 2829 (Matthew Willets)
Silver: Chippewa High School (Gabe M. Ferraiuolo)
Bronze: Chippewa High School (Emma Jo J. Powers)
Middle School
Gold: Geauga Engineering & Robotics 4-H Club (Gregory Wenner)
Silver: Geauga Engineering & Robotics 4-H Club (Alyssa Mobley)
Bronze: Indiana Tech Explorer Post 2829 (Corban Saylor)
Elementary School
Gold: Union Elementary School (Jameson Rile)
Bronze: Geauga Engineering & Robotics 4-H Club (Ryan Mobley)
Robot Maze/Tactile
Postsecondary
Gold: Indiana Tech Explorer Post 2829 (Chad Trowbridge)
High School
Gold: Montpelier High School (Noah B. Conklin)
Silver: Indiana Tech Explorer Post 2829 (Paige Billien)
Middle School
Gold: Tallmadge Middle School (Richie Day)
Silver: Geauga Engineering & Robotics 4-H Club (Gregory Wenner)
Bronze: Indiana Tech Explorer Post 2829 (Julia Langford)
Sumo Lightweight
High School
Gold: Indiana Tech Explorer Post 2829 (Michael Langford)
Silver: Kenton High School (Kyle Goodin)
Bronze: Wadsworth High School (Ben Fisher)
https://www.ramtecohio.com/wp-content/uploads/2018/04/pick-and-place-gold.jpg
479
960
News
https://www.ramtecohio.com/wp-content/uploads/2015/07/Ramtec-official-logo-white-MoreWhiteLine.png
News
2018-04-17 12:41:18
2018-04-19 07:21:13
2018 National Robotics Challenge huge success