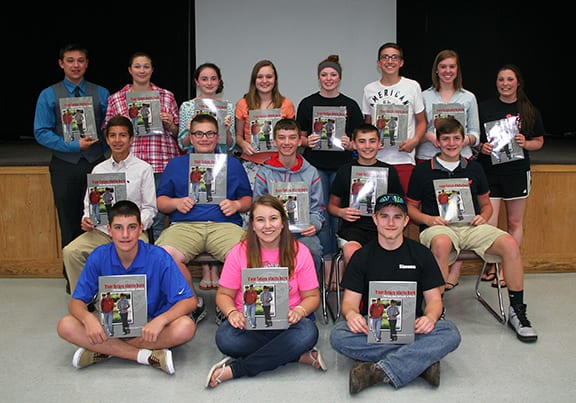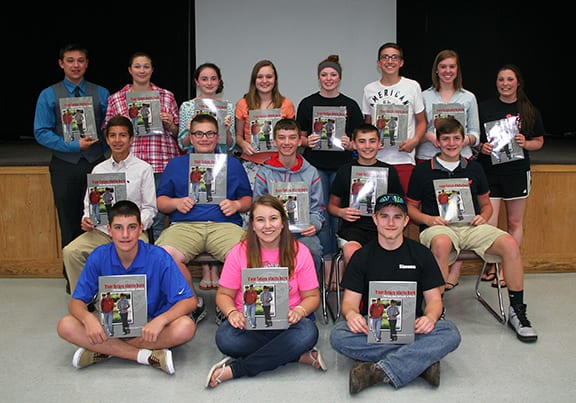 Row 1, left to right: Josh Strine, River Valley, $1,000; Jalyn Woodford, North Union, $3000; Semeon Wilson, North Union, $3,000. Row 2, left to right: Manuel Acuna, River Valley, $1,000; Cole Peterson, North Union, $1,000; Zak Kratowicz, North Union, $1,000; Joel Ackerman, North Union, $1,000; Joey Blair, North Union, $4,000. Row 3, left to right: Seth Reece, Tri-Rivers, $2,000; Faith Demico, Tri-Rivers, $2,000; Avery Zwayer, North Union, $4,000; Adrianna Woodruff, North Union, $4,000; Lily Arledge, North Union, $4,000; Evan Woodford, North Union, $1,000; Lydia Nordquist, North Union, $3,000 and Blake Ackerman, North Union, $3,000. Recipients not pictured include: Connor Cox ($2,000), Logan Suiter ($2,000), Jessica Valentine ($2,000), Hailee Miller ($2,000), Austin Cox ($3,000), Karissa McGinnis ($3,000), Jerrod Webber ($2,000), Elizabeth Swihart ($2,000) and Preston Elswick ($2,000).
The 2015 RAMTEC Vex League Awards Night was held Tuesday with an Open House in RAMTEC at 5:30pm and an Awards Presentation at 6:30pm in the Tri-Rivers Auditorium.  More than 150 students and family members attended the event. Highlighting the evening was the presentation of The Ohio State University at Marion Engineering Scholarships to team members with awards totally $58,000.
"Teams earned $1,000 scholarships for winning the Ohio State Marion Engineering Awards at RAMTEC Vex Robotics events throughout the season," said Ritch Ramey, RAMTEC director.  "The criteria was based upon their engineering notebooks, interviews and team knowledge of the notebooks, designs and presentations during interviews as well as functionality of their robot designs."
"Many team members won multiple events," said Ramey. "Matt Moreau, Director of Students Enrollment at Ohio State Marion has supported our contests for 3 years and has distributed more than $100,000 in Ohio State Marion Engineering scholarships."
Ramey said the scholarships have reinforced the need to use the engineering problem solving cycle to continuously improve their robots. "We have seen a dramatic rise in students' quality of engineering robots, interview skills and the technical knowledge. They all know their gear ratios, torque, speed and if they have 4 or 6 bar mechanisms."
Also, during the evening, the audience heard from Tri-Rivers Superintendent Chuck Speelman and Yancey Downey, Honda Engineering Coordinator/Technical Development Center. Both speakers emphasized the need for trained engineering technicians and engineers.
Because of automation, we are bringing jobs back to this country, said Speelman."RAMTEC is the model nationwide to help meet the needs of manufacturing skilled jobs. Downey agreed, adding that robots are doing the repetitive and oftentimes unsafe jobs that people used to do. "Robots aren't costing us jobs. In fact the companies that have automated are adding jobs."
Ramey said he recently read that "companies must automate or die. "That's why RAMTEC is so important. So far 33 high school students have received FANUC certifications through RAMTEC. We hope to keep doubling that number in order to meet the needs of Ohio."
During the evening more than 350 Vex Robotics certificates were awarded to the 81 teams represented by the RAMTEC Vex Robotics League including teams from Tri-Rivers, Marion City, River Valley, North Union, Elgin, Ridgedale, Cardington, Highland, and Grant Middle School.
For students interested in Vex Robotics, Ramey said there is a Summer Camp June 8-10 for 7th-12th graders at Tri-Rivers Career Center. To date Ramey has received more than 65 applications for the camp. To apply or learn more about the summer camp visit ramtecohio.com or email Rob Smith at  
https://www.ramtecohio.com/wp-content/uploads/2015/05/OSUM-webt_2943.jpg
403
576
News
https://www.ramtecohio.com/wp-content/uploads/2015/07/Ramtec-official-logo-white-MoreWhiteLine.png
News
2015-05-20 15:38:40
2015-05-22 13:07:59
$58,000 in Ohio State Marion Engineering Scholarships