New practical explosion welding method invented within The Ohio State University's College of Engineering permits welding of traditionally non-weldable materials. First system delivered to Tri-Rivers Career Center in Marion, Ohio.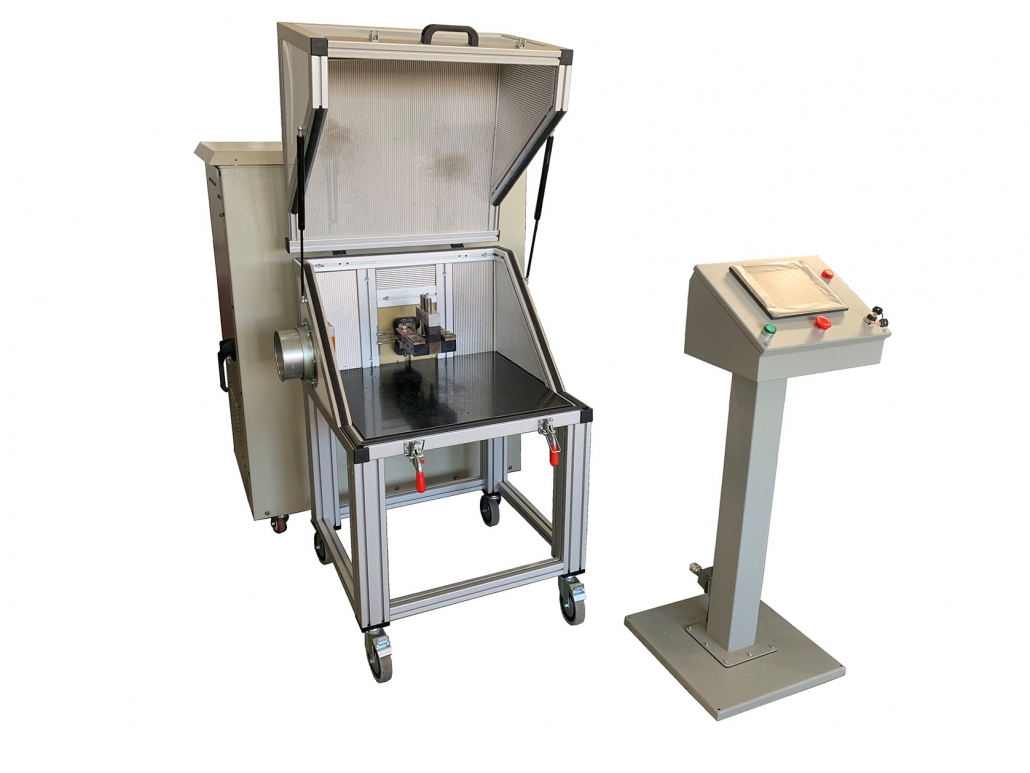 A novel manufacturing method has proven capable of bonding dissimilar metal pairs, including aluminum to steel and titanium to steel as well as many other alloy pairs. This new welding technology allows for lightweighting by multi-material design and is an alternative to welding by melting, which can produce poor materials properties. Dr. Glenn Daehn, Mars G. Fontana Professor of Metallurgical Engineering with Ohio State's Department of Materials Science and Engineering, and Anupam Vivek, Research Scientist with the Department of Materials Science and Engineering, invented the manufacturing process called Vaporizing Foil Actuator Welding (VFAW).
Using this technique, electrical energy stored in a capacitor bank is released through a switched circuit that contains a thin metal conductor. Driven by a high-energy deposition rate, the conductor vaporizes and produces a high-pressure pulse that drives a flyer into a target, whereby an impact weld between dissimilar materials is created.
The Ohio Development Services Agency (ODSA) funded the research performed by Daehn and Vivek. ODSA supported the innovation and its potentially significant impact on Ohio's manufacturers as they face growing international competition and demands for more efficient designs. The potential for VFAW can be explosive in a competitive sense as automobiles and aircraft demand lighter components, which translates into better operational efficiency. Daehn states that "this method offers the ability for vehicle designers to use the most appropriate material in specific locations on the vehicle body and provides strong fastener-free joints between them. In order to bring this to broad use, this is now being developed into simple-to- use prototype systems."
On April 2, Ohio State delivered the first prototype VFAW system to Tri-Rivers Career Center, whose RAMTEC program trains welding practitioners. This transfer of technology marks the first time this manufacturing technology can be used by entities outside of The Ohio State University. RAMTEC, which is one of the nation's leading robotics and advanced manufacturing training facilities, is using the system to train current and future manufacturing technicians.
"RAMTEC is looking forward to developing various processes, procedures and experiments with dissimilar materials and machine settings that will test the full range of VFAW welding capabilities. We then plan to translate these tasks into real-world applications for potential industry usage along with automating the process", explains Mark Edington, Robotics Coordinator at RAMTEC.
Ohio State and RAMTEC are working with Ohio-based machine builder, Coldwater-Lincoln, another partner in the ODSA grant, to deliver affordable and capable equipment based on this emerging technology.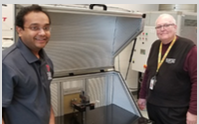 Anupam Vivek and Mark Edington
"We then plan to translate these tasks into real-world applications for potential industry usage along with automating the process."
Mark Edington, 
Robotics Coordinator, RAMTEC
The development, implementation and subsequent impact of this technology illustrates the benefits of the trifecta approach by joining technology, education and industry in Ohio while sustaining the purpose of the land-grant mission.
https://www.ramtecohio.com/wp-content/uploads/2019/04/Impact-Welding.png
2305
3072
News
https://www.ramtecohio.com/wp-content/uploads/2015/07/Ramtec-official-logo-white-MoreWhiteLine.png
News
2019-04-15 18:03:25
2019-04-15 18:03:25
Impact Welding Equipment Developed at Ohio State Debuts at Tri-Rivers Career Center/RAMTEC