Training for Area's Immediate Openings
Do you want a great paying job? Or know someone who wants a great paying job?  Do you have the aptitude and attitude to succeed in the robotics field?  Would you like to make $18 to $26 per hour?  Join us March 14 for an Open House from 2pm to 6pm at RAMTEC on the Tri-Rivers Campus for an informational session on a customized training class designed to meet the robotic technician needs of area employers.
"Honda of America, Ohio Means Jobs, AeroTek, Robotworx, Tri-Rivers and other area companies will be at the Open House to assist you to gain the training needed to make great wages with a great career," said Ritch Ramey, Engineering Coordinator for RAMTEC.
"Our first 15-day class will start April 16 and will guarantee participants an interview with a area company that needs associates with robotics skills covered in the RAMTEC Robotic Technician Training program," said Ramey.
Overview of the program:
• FANUC—HTOP ((Handling, Tooling, Operations & Programming)—Robotic Training—40 hours in class training
• Yaskawa/Motoman—Robotic Training—40 hours in class training
• Additional Training—40 hours in class training Robotic Preventative Maintenance, Mechanical Blueprint Reading, and Technical Math.
Total Hours: 120
Tri-Rivers RAMTEC has partnered with FANUC Robotics to offer onsite certification training, including: Robot Operation, HTOP (Handling, Tooling, Operations & Programming), 2D iRVision Operation & Programming and Robot Maintenance.
RAMTEC has also partnership with Yaskawa Motoman Robotics to offer onsite educational certification training. Students will learn operation, programming and how it applies to Material Handling applications.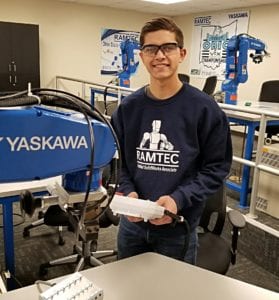 Tri-Rivers RAMTEC is located in Marion, Ohio on the Tri-Rivers Career Center campus, 2222 Marion-Mt. Gilead Rd, Marion, OH. The Center has the most up-to-date equipment. It is supported by industry partnerships with Robotworx, Whirlpool, Honda of America, U.S. Yachiyo, FANUC Robotics, and Yaskawa Motoman Robotics, who have combined forces and talent to operate as an industrial robotics and advanced manufacturing center. The facility is geared to technically train students for high-skilled jobs in Automation, Robotics, CNC (Computer Numerical Control), Welding and Industrial Maintenance.
For more information call Holly at 740-389-8590 or email her at . Financial aide assistance available.
https://www.ramtecohio.com/wp-content/uploads/2018/03/ramtec-tech-training-photo-web.jpg
1117
1913
News
https://www.ramtecohio.com/wp-content/uploads/2015/07/Ramtec-official-logo-white-MoreWhiteLine.png
News
2018-03-07 14:20:49
2018-03-08 07:56:09
Open House for RAMTEC Robotic Tech Training March 14