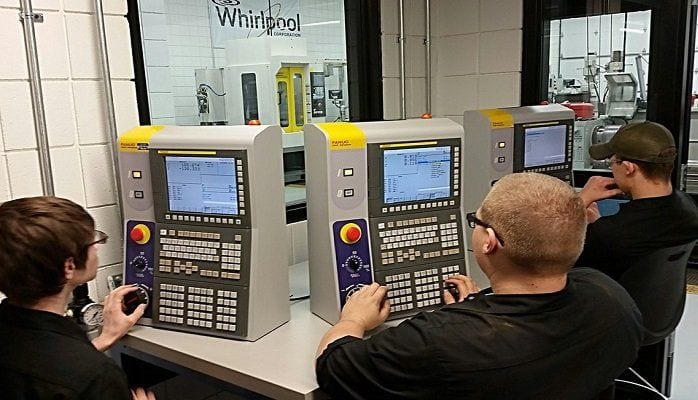 RAMTEC Advanced Machining students at Tri-Rivers in Marion, Ohio used the latest technology recently introduced by FANUC CNC to make CNC training more efficient.
Students learned to program FANUC CNC Robodrills on the trainers first and then are able to translate their CNC programming knowledge to the FANUC Robodrill Mechatronics station in their new training center.
The advantage is the cost of the trainers is dramatically less expensive than the Robodrill so students get more opportunity to program on the CNC trainers and then when they get their programs completed they can run them on the state of the art FANUC CNC Robodrill. This makes FANUC CNC Robodrill Instructor Scott Jones' job as an instructor much more effective. He is able to speed up the training and knowledge of students because students are not waiting to program on the Robodrill.
Jones commented, "The Robodrill is used by many manufacturing facilities throughout our region. By having our students get valuable experience on the the FANUC Robodrill we are giving them a leg up on students that are not getting FANUC CNC and Robodrill training while in school. It is much better to test and crash a program on the trainers than a $80,000 Robodrill. The program the students create on the trainer is identical to the program needed on the Robodrill. So students create programs on the trainer and then transfer it to the Robodrill to operate it."
Our 22 RAMTEC sites around Ohio will be getting the latest FANUC CNC training equipment through more than $22 million dollar worth of Ohio Straight A grants. Tri-Rivers was the first of the 22 sites (Shown in blue on the map, above) and is also the train-the-trainer site for RAMTEC Ohio educational Robodrill training.
This latest training product added to the FANUC CNC training family will help us create a new group of highly skilled students leaving career centers in Ohio to help meet the high demand for machinists and technicians throughout the Midwest. According to Boston Consulting Group (BCD)  report, as reported in an article by Made In Ohio, "The U.S. is currently short around 80,000 to 100,000 highly skilled manufacturing workers."
BCD goes on to state in the article, "By 2020, the U.S. could face a deficit of approximately 875,000 machinists, welders, industrial machinery operators and other highly skilled manufacturing workers, according to the U.S. Bureau of Labor Statistics estimates. With aging workers retiring and an increased demand for workers in the expanding U.S. manufacturing industry, we can expect severe skilled-labor shortages".
At RAMTEC Ohio, we are going to help overcome the skilled manufacturing deficit and create the next generation of skilled manufacturing workers.
By Ritch Ramey, RAMTEC Coordinator