Marion has always been a community that builds things. We create things. We just always have. We created the machines that built the Panama Canal. We helped move rockets and space shuttles. It's always been in our DNA.
At Tri-Rivers Career Center, we knew there was a skills gap; industry told us. We knew students needed advanced manufacturing training, but they just weren't getting it. So, what could we do about it? We needed to create a place to fill these gaps; we needed a place like RAMTEC (Robotics & Advanced Manufacturing Technology Education Collaborative).
"Our answer to the manufacturing skills gap in Ohio is RAMTEC," said Ramey, RAMTEC Coordinator and Engineering Instructor at Tri-Rivers Career Center. "Tri-Rivers leads the nation on creating a state of the art training center for the gray collar jobs of the future with advanced manufacturing and engineering skills. We are building a Robotic Technician Pipeline."
Ramey said, "Data shows over the next decade nearly three and a half million manufacturing jobs will be needed to be filled and the skills gap is expected to result in 2 million of those jobs going unfilled."
Ramey said RAMTEC works with numerous Robotics, Programmable Logic Control and Welding companies to provide multiple advanced manufacturing and robotics certifications all under on roof.
"Tri-Rivers RAMTEC is set up with the most sophisticated up-to-date equipment that is out in the market today with over 38 robots, including FANUC, Yaskawa and Universal—the robots most widely used out in industry settings," said Mark Edington, RAMTEC Instructor.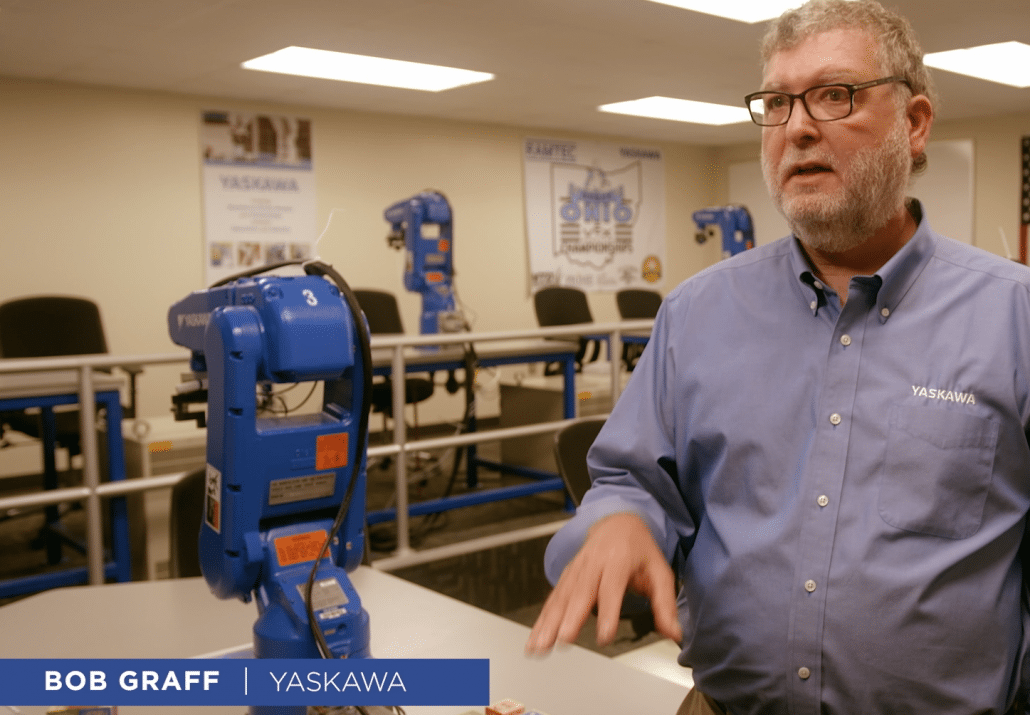 "When you look at what is happening around the country, there are various programs that are out there being built to replicate what RAMTEC has already done. We look at RAMTEC as really ground zero for industrial education for robotics," said Bob Graff, senior sales manager of Robotics /Education Workforce Development at Yaskawa Motoman.
"RAMTEC is a state of the art facility modeled very similar to what we have at our Honda Technical Training Lab, said Drew Mosley, technical training instructor for Honda of America and a graduate of RAMTEC. "They are trying to give students a taste of what they will see on the (manufacturing) floor. They are giving them those tools prior to even going to college. I attribute a lot of my success to Tri-Rivers and the amount of work they put into building the program to what it is now."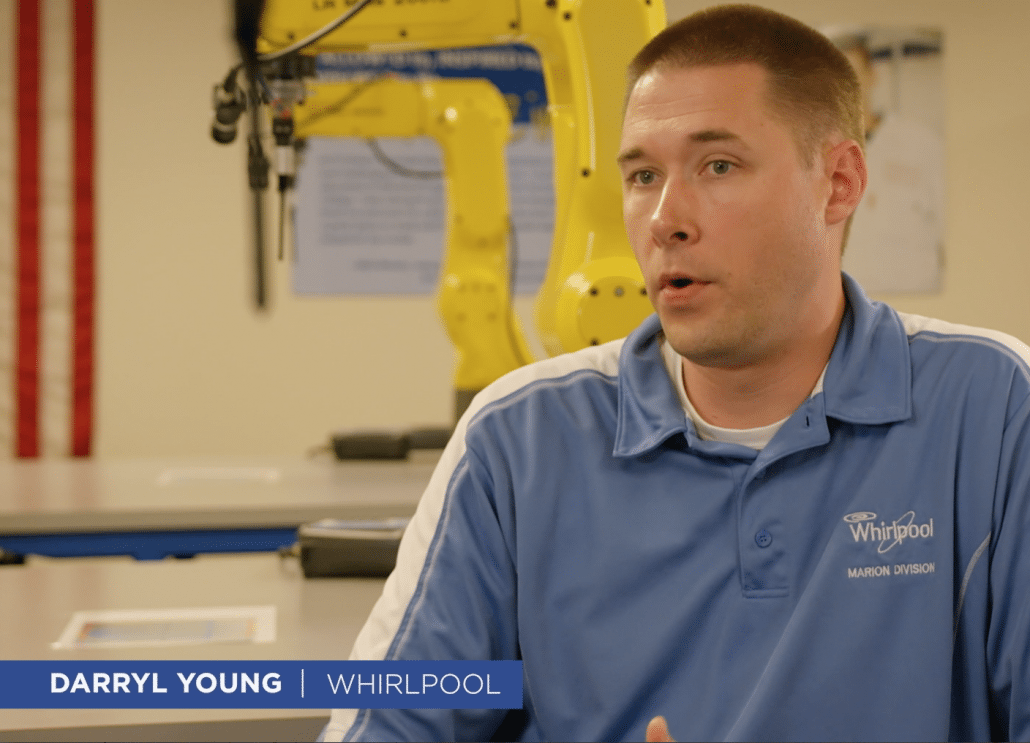 "They are teaching students the same exact skills they will use in the workforce It's not a situation where there is a correlation or a parallel. It is literally what they are doing in the class is what they will be doing in the manufacturing environment," Daryl Young, controls and automation manager for Whirlpool-Marion Division.
"They really took charge of identifying the types of curriculum and types of equipment that would prepare those students well immediately for needs that we have within our manufacturing operations," said Scot McLemore of Honda of America. "Tri-Rivers through their RAMTEC Center has really focused on meeting our needs as an employer with our automation and manufacturing operations and then really working closely with us in terms of identifying pathways that lead to those positions that we have."
Gus Comstock, the director of CANDO! Marion, said "I think something that we excel at in Marion is the partnership between the private sector and education and the public sector…we sort of cracked the code on how do you get manufacturers and the private sector together with educational institutions to make sure everyone is speaking the same language. RAMTEC is the mother ship of Robotics Education in the State of Ohio and probably one of the best in the nation. It doesn't get any better for a company that needs people with robotics training."
"The game changer is really about how RAMTEC is going about building a model that is sustainable—that supports what industry is looking for. It really is the biggest value that RAMTEC has," said Graff.
"RAMTEC is going to keep our jobs here as apposed to moving to another country or another location," said Annette Walton, Ohio Means Jobs, Marion.
RAMTEC Ohio opened its doors in Marion in 2013. In June of 2014 eight additional RAMTEC sites were funded through an Ohio Department of Education $14,995,000 Straight A Grant. Then in November 2015 an additional $8 million Straight A Grant funded 14 more RAMTEC Ohio sites. Today, with the site at Tri-Rivers leading the way, 23 RAMTECs are located in Ohio.
"Unique to RAMTEC is that where most schools tend to direct training to high school students, at RAMTEC we are directing training to not only high school students, but adults as well, including college students and incumbent workers, said Edington.
Since opening, the training center at Tri-Rivers has certified more than 350 students in industrial maintenance, engineering technology, advanced machining, robotics and welding careers. RAMTEC's graduates have been hired by companies such as Honda of America Mfg Inc., RobotWorx, SEMCO Manufacturing Co., Union Tank Car Co. and Whirlpool Corp.
Edington said in the last class of high school students at Tri-Rivers RAMTEC, 19 of the 20 were employed even before they graduated. "The Adult students going through the new Tri-Rivers RAMTEC Robotics Technician Training are equally successful in being hired at companies like Jefferson Industries."
RAMTEC has been recognized by the SME Education Foundation, the Ohio Economic Development Association and the Ohio Department of Education for being innovative and cutting edge. More than $20 million dollars in state grants has allowed Tri-Rivers to partner with additional career centers to expand and continue the innovative vision of RAMTEC helping to fill Ohio's skills gap and hopefully helping to establish Marion as the new Robotics Hub in Ohio. To learn more at RAMTEC visit ramtecohio.com
https://www.ramtecohio.com/wp-content/uploads/2018/08/ramtec-feature.jpg
320
864
News
https://www.ramtecohio.com/wp-content/uploads/2015/07/Ramtec-official-logo-white-MoreWhiteLine.png
News
2018-08-14 17:47:10
2018-08-14 17:50:37
Tri-Rivers RAMTEC addresses manufacturing skills gap