Cutline for group photo: l-r: Graduates of Tri-Rivers RAMTEC Robotics Technicians customized training pilot are: Shane Rose. Austin Billingsley, Ian Clouse, and Sean DeWitt.

The four individuals who qualified for the first ever Tri-Rivers' RAMTEC Robotics Technicians (RRT) customized training have graduated. "This pilot program for adults is just the tip of the iceberg," said Ritch Ramey, coordinator of RAMTEC. "Our goal is to graduate hundreds of robotics technicians to help fill the growing skills gap."
This select group of RRT graduates included: Austin Billingsley, Ian Clouse, Sean DeWitt and Shane Rose. "Through this pilot program, these individuals qualified for the free 15-day training worth over $6,000 and are guaranteed job interviews with area companies," said Ramey.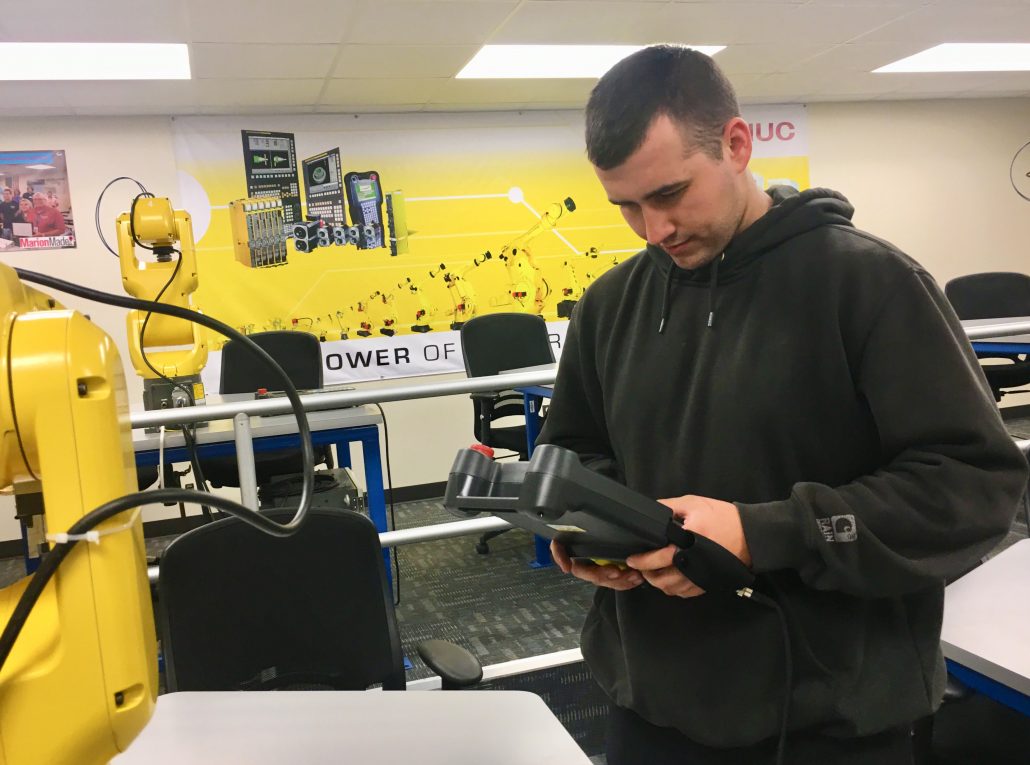 "These four new members of our robotics fraternity will be very successful Robotic & Automation Technicians in our community," said Ramey. "As customized training completers they earned both Yaskawa Motoman and FANUC Industrial Robotics certifications as well as OSHA 10 Safety, blueprint reading, Metric System and the A Game of Essential Career Skills training."
Why is this customized training important and relevant? Ramey explained, "By 2015 it is estimated 3.4 million manufacturing jobs will be needed, but only 1.4 million are expected to be filled. That means 2 million jobs will be left unfilled due to the skills gap," said Ramey.
"At RAMTEC our high school engineering students have been earning nationally-recognized robotics certifications and we have been providing customized robotics training for area industry," said Ramey. "However, we need to expand that training to reach more adult students to meet industries' needs— this Robotics Technicians customized training will do that."
"To qualify for the pilot Robotics Technicians customized training individuals completed a variety of assessments, including a career awareness program called the COPSystem Career Test," said Amy Pirnstill, Tri-Rivers transitions/placement coordinator. "The system utilizes three areas that guide students to the best career fit, including: Career Occupational Preference System Interest Inventory (COPS); Career Ability Placement Survey (CAPS) and Career Orientation Placement and Evaluation Survey (COPES)."
Pirnstill said prospective students also completed the The Adult Basic Education (TABE) Test through Marion County Job and Family Services. "This test has four sections: Reading, Language, Math Computation and Applied Math. Plus, they had to pass a drug test and background check."
DeWitt, the former director for the Marion Boys & Girls Club, said, "I wasn't finding a job in my field and saw information about the RAMTEC Robotics Tech Training. The timing was right and it seemed like a good fit. I liked the small class size and the hands-on. It was fast-paced and intense, but the instructor was always on hand to help me through any situation. I'm looking forward to interviewing for a job in this field. It's a new start for me."
Mark Edington, RAMTEC Robotics Instructor, said, "All four participants in the pilot were outstanding. "They worked hard. They were highly motivated and wanted to really learn how to operate the industrial robots. This program is going to open doors for these students."
Billingsley, who currently works for Honda, is hoping Edington is right because he is looking to grow in his career. "I have always liked the technical side of things. I'd picked up skills in welding and metal fabrication at Tri-Rivers in high school. This RAMTEC Adult Education Robotics Technician customized training is the next step for me to get into an Industrial Maintenance career. It will open doors for me.  I want to keep taking more advanced classes at RAMTEC. I thrive on hands-on more than just reading information."
Rose, who also works at Honda,  said, "I'm hoping this training will help me get a more technical job as a Robotic Technician or in Maintenance."
Clouse added, "I have always thought robots were interesting. The RAMTEC Robotics Tech Training intrigued me. The instructor is very knowledgeable. I've learned more here in this class in three weeks, than I learned in all of my high school and college classes. RAMTEC is awesome. The fact that Marion, Ohio has this resource—with nothing else like it in the country—is amazing to me."
Ramey said Tri-Rivers RAMTEC is positioned to help build a robotic and automation technician pipeline starting right here in Marion, Ohio. "The need is real. One Honda plant announced recently to a group of high school Seniors they will need 800 new hires to replace retirees, including 300 robotic technicians in the next three years."
Paul Aiello, director of the Certified Education Group for FANUC of America Corporation, commended Ramey and his RAMTEC team, saying,  Tri-Rivers RAMTEC "as one of FANUC's first high schools to offer our CERT program (Certified Education Training), continues to be the model of success that we need to replicate in high schools throughout America." He also thanked Ramey for his continued advocacy of Advanced Manufacturing and Robotics.
Ramey said he and his RAMTEC team plan to continue and expand high school offerings, but are also concentrating on offerings for adults. "Through our partnerships with JobsOhio, Ohio Means Jobs, Marion County Jobs and Family Services, as well as Aerotek, Cardington Yutaka, Honda, RobotWorx, Whirlpool, Xigent and others our RAMTEC Robotics Technicians customized training will help fill the skills gap.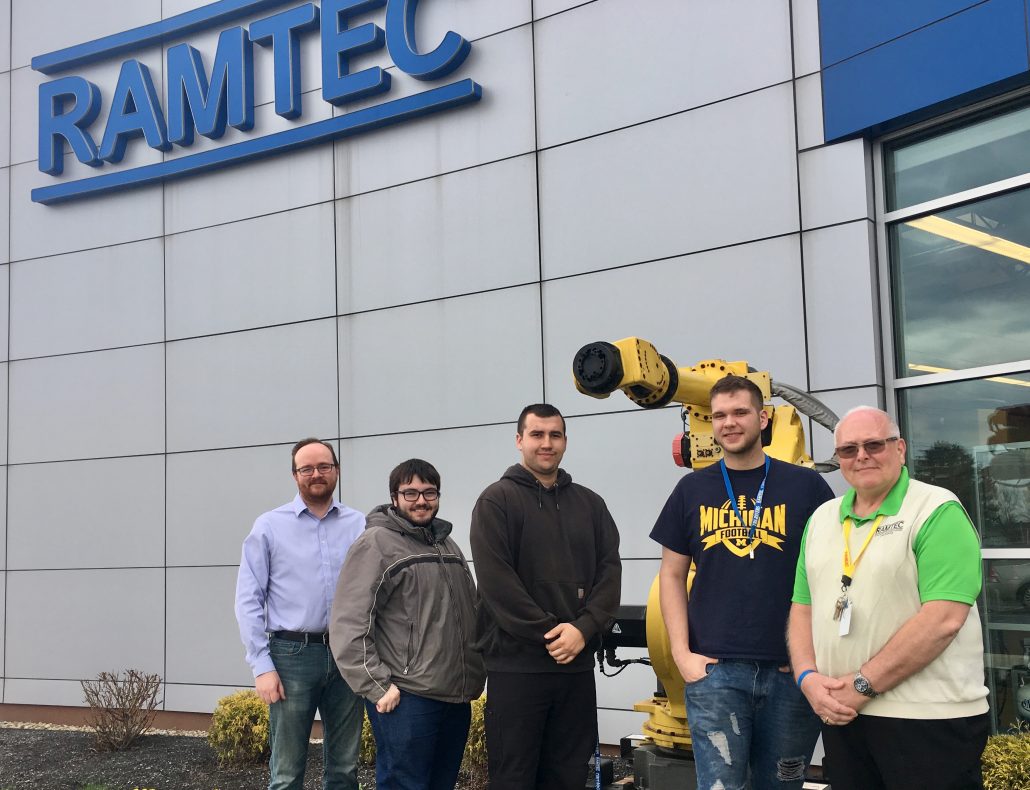 Tri-Rivers RAMTEC is located in Marion, Ohio on the Tri-Rivers Career Center campus, 2222 Marion-Mt. Gilead Rd, Marion, OH. The facility is geared to technically train students for high-skilled jobs in Automation, Robotics, CNC (Computer Numerical Control), Welding and Industrial Maintenance.
For more information on the RRT program and other programs offered at Tri-Rivers  RAMTEC, call Holly Ramey at 740-389-8590 or EMAIL
https://www.ramtecohio.com/wp-content/uploads/2018/05/Group-photo-Rob-Tech-Pilot-topper.jpg
765
2048
News
https://www.ramtecohio.com/wp-content/uploads/2015/07/Ramtec-official-logo-white-MoreWhiteLine.png
News
2018-05-08 09:00:08
2018-07-09 09:34:06
Tri-Rivers' RAMTEC first Robotics Technicians graduate