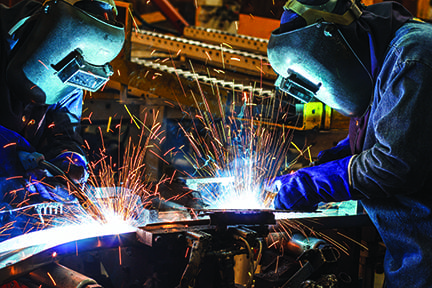 https://www.ramtecohio.com/training/industry/welding-fabrication/
Welding is one of the few career choices that is in high demand at all times. To meet those demands Tri-Rivers Center for Adult Education is offering three part-time classes and one full-time class in their state of the art RAMTEC training center on the Tri-Rivers campus, 2222 Marion-Mt. Gilead Rd, Marion, Ohio. 
Part Time Welding Course Offerings
"Since welders are needed in almost every industry, it gives them the flexibility to switch industries without changing careers," said Retterer. "Most career choices have ups and downs; whereas, welding has endless opportunities that keep fueling the demand for welders."
The three part-time classes include:
• Introduction to Welding, which is designed to instruct students in welding safety and welding techniques.  
• Basic Welding  teaches students the basic knowledge of shielded metal arc welding, gas metal arc welding and oxyacetylene cutting. 
• Advanced Welding is for the individual in the field of welding with experience in arc welding and/or has completed the Basic Welding program. 
The full-time 650-hour Tri-Rivers Adult Education Welding program in RAMTEC starts January 8th, 2018 and runs through June 13, 2018, Monday through Friday, 8:30am-3:30pm, said Retterer. "This program covers the basics of Shielded Metal Arc Welding Flux Cored Arc Welding, Gas Metal Arc Welding and Gas Tungsten Arc Welding with structural fabrication skills and hands-on practice and skill attainment lab sessions
Welding Brochure 650 hour course
The full-time welding program gives students the opportunity to earn industrial certifications, said Retterer.
To register for a part-time welding class or the full-time class, contact Holly Ramey at EMAIL or 740-389-8590. Financial Aid is available for the full-time program.
https://www.ramtecohio.com/wp-content/uploads/2017/01/welding-web.jpg
288
432
News
https://www.ramtecohio.com/wp-content/uploads/2015/07/Ramtec-official-logo-white-MoreWhiteLine.png
News
2017-01-05 12:40:51
2017-10-12 16:14:32
New Welding Classes in Tri-Rivers RAMTEC