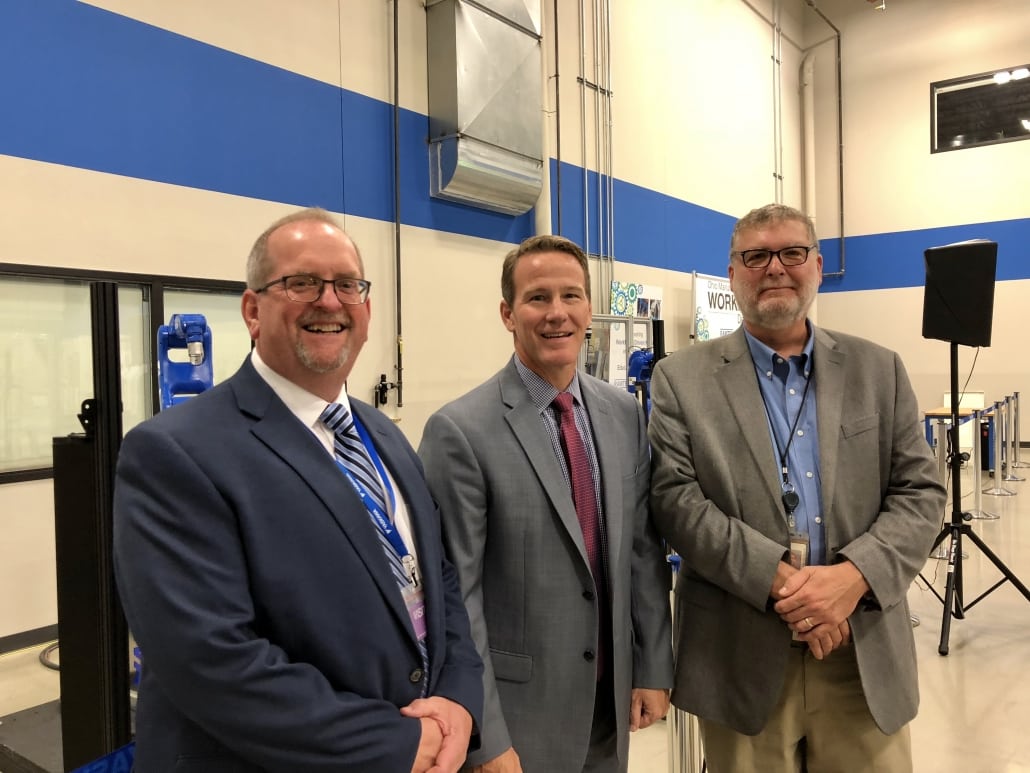 "The vision we have had all along is to develop the Workforce of the 21st Century," said Ritch Ramey, RAMTEC coordinator for Tri-Rivers Career Center. "Our goal is to create a Silicon Valley of Robotics here in Central Ohio."
Ramey's vision is becoming a reality as RAMTEC (Robotics & Advanced Manufacturing Technology Education Collaborative) and Yaskawa Motoman announced the formation of a new business partnership—The Ohio Manufacturing Workforce Partnership—at a press conference held Tuesday in Miamisburg at the robotics company's facility.
"This is a critical step in Ohio's economic future because it will make manufacturing part of our economy long into the future," said Ohio Secretary of State Jon Husted, who was at the event. "Five years from now you're going to wonder what decisions are businesses going to make when they locate their manufacturing facilities. The key issue for businesses is going to be talent."
Husted said, "We are going to get behind RAMTEC and we are going to get behind these kinds of programs to make Ohio the most talented state in the Midwest. The most business friendly state in the Midwest and the state where people say this is where the future of manufacturing is in the world."
"We emphasize to our students that many manufacturing jobs are high-tech, exciting careers," said Chuck Speelman, Tri-Rivers Superintendent. "Robots are doing the repetitive, dangerous and dirty jobs. Students quickly learn that by exploiting the Robotics & Automation technology, a safe, productive environment is created."
It is estimated that 87,000 new robotic jobs will need to be filled in the U.S. over the next decade. The new partnership will expand RAMTEC's curriculum to provide advanced robotic training and certifications that will be available to students in Central Ohio and around the state.
"I think something that we excel at in Marion is the partnership between the private sector and education and the public sector…we sort of cracked the code on how do you get manufacturers and the private sector together with educational institutions to make sure everyone is speaking the same language, said Gus Comstock, director of Marion CANDO!.
"RAMTEC is the mother ship of Robotics Education in the State of Ohio and probably one of the best in the nation. It doesn't get any better for a company that needs people with robotics training. RAMTEC offers them an opportunity to be best in class and to find the best jobs in the nation and the world," added Comstock.
"When you look at what is happening around the country, there are various programs that are out there being built to replicate what RAMTEC has already done. We look at RAMTEC as really ground zero for industrial education for robotics," said Bob Graff, senior sales manager of Robotics /Education Workforce Development at Yaskawa Motoman.
Wesley Stillions, a recent graduate of Tri-Rivers RAMTEC Engineering Technology program, has already helped to build a robotic workcell for Whirlpool. Stillions plans to enlist in the military first, but hopes to get a robotics job at Honda when he returns. "It makes me feel very proud to have worked on a robot workcell for Whirlpool and especially proud to be from Marion."
RAMTEC's programs help students like Stillions to get high paying jobs at Ohio companies right out of high school.
"Data reveals that within ten years nearly 3.5 million manufacturing jobs will sit empty, with the skills gap being responsible for 2 million of those jobs going unfilled," said Ramey. "Forming mutually-beneficial relationships with manufacturers through the Ohio Manufacturing Workforce Partnership will create the foundation needed to move Ohio's workforce forward."
RAMTEC's core mission to partner with real-world manufacturing facilities to help identify and supply the needs of the manufacturing industry is fueling their involvement in the partnerships with Yaskawa Motoman and companies like Whirlpool. The entire project development funding is earmarked for $400,000 to provide a comprehensive training and application development model that will reach thousands of incumbent workers and students statewide.
"Our workforce-driven training and research partnership with RAMTEC is a solid step to providing students with work-based learning opportunities in the field of robotics," said Doug Burnside, Yaskawa Motoman's Vice President of Sales and Marketing. "The best-in-class instruction and certification programs provided through our Yaskawa Academy will also help to enhance RAMTEC's vision of providing proficient training and
curriculum in 21st century automation and robotics."
"The game changer is really about how RAMTEC is going about building a model that is sustainable—that supports what industry is looking for. It really is the biggest value that RAMTEC has," said Graff.
Top Photo:
Ritch Ramey, Tri-Rivers RAMTEC Coodinator addressing group at press conference announcing RAMTEC and Yaskawa Motoman partnership. Pictured with Ramey, Bob Graff, Yaskawa Motoman, Rob Brundrett, Ohio Manufacturers Association and Secretary of State Jon Husted.
Inset Photo, l-r: Ritch Ramey, Tri-Rivers Career Center RAMTEC Coordinator; Ohio Secretary of  State Jon Husted and Bob Graff, Senior Sales Manager of Robotics/Education Workforce Development at Yaskawa Motoman.

History of RAMTEC
RAMTEC Ohio opened its doors in Marion in 2013. In June of 2014 eight additional RAMTEC sites were funded through an Ohio Department of Education $14,995,000 Straight A Grant. Then in November 2015 an additional $8 million Straight A Grant funded 14 more RAMTEC Ohio sites. Today, with the site at Tri-Rivers leading the way, 23 RAMTECs are located in Ohio.
"Unique to RAMTEC is that where most schools tend to direct training to high school students, at RAMTEC we are directing training to not only high school students, but adults as well, including college students and incumbent workers, said Mark Edington, RAMTEC instructor.
Since opening, the training center at Tri-Rivers has certified more than 400 students in industrial maintenance, engineering technology, advanced machining, robotics and welding careers. RAMTEC's graduates have been hired by companies such as: Honda of America Mfg Inc., RobotWorx, SEMCO Manufacturing Co., Union Tank Car Co. and Whirlpool Corp.
Edington said in the last class of high school students at Tri-Rivers RAMTEC, 19 of the 20 were employed even before they graduated. "The Adult students going through the new Tri-Rivers RAMTEC Robotics Technician Training are equally successful in being hired at companies like Jefferson Industries."
RAMTEC has been recognized by: the SME Education Foundation, the Ohio Economic Development Association and the Ohio Department of Education for being innovative and cutting edge. More than $20 million dollars in state grants has allowed Tri-Rivers to partner with additional career centers to expand and continue the innovative vision of RAMTEC helping to fill Ohio's skills gap and hopefully helping to establish Marion as the new Robotics Hub in Ohio. To learn more at RAMTEC visit ramtecohio.com
https://www.ramtecohio.com/wp-content/uploads/2018/08/Press-confererence-web.jpg
516
1080
News
https://www.ramtecohio.com/wp-content/uploads/2015/07/Ramtec-official-logo-white-MoreWhiteLine.png
News
2018-08-22 11:47:39
2018-08-22 12:07:36
RAMTEC, Yaskawa Motoman partnership to put Ohio at forefront of manufacturing industry