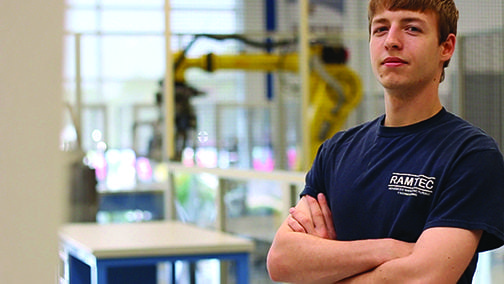 Tri-Rivers RAMTEC is hosting an event to celebrate Manufacturing Day on October 13, 9am to 4pm, including a facility tour, a VEX Robotics Competition, and for the first time, an industrial robotics contest. Ritch Ramey, Engineering Coordinator for RAMTEC, said, "Students are thirsting for more real-world robotics applications experience." He hopes the industrial robotics contest will become a national competition.
The event, sponsored by the PRIME (Partnership Response In Manufacturing Education), Honda Foundation, FANUC and Yaskawa Motoman Robotics, in coordination with Robotic Industries Association (ria), Consolidated Electric Cooperative, Inc, National Robotics Challenge, (NRC), REC Foundation and RAMTEC Vex Robotics League, is open to the public.
"We are encouraging area high school students, college students, adults and regional manufacturing technicians to attend," said Ritch Ramey. "Our goal is to draw attention to the outstanding opportunities that a career in manufacturing can provide.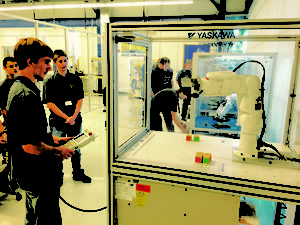 "Over the next decade, it is estimated that nearly 3.5 million U.S. manufacturing jobs will be needed and 2 million of those jobs are expected to go unfilled due to manufacturers' inability to find talent with the required skills," said Ramey. "These numbers dramatically underscore the importance of introducing as many people as possible to the significant role played by manufacturing in Ohio and the entire nation."
Manufacturing Day will show students how math, science, engineering and problem solving tie into real-world applications," said Ramey. "They will see this and experience the relationship between STEM and manufacturing and what types of careers are available in the manufacturing field.
Exhibits and demonstrations will  include: FANUC Robotics Industrial Robotics Contest, Motoman Robotics Industrial Robotics contest, Vex Starstruck contest, Fastech MasterCAM , Sandvik Tools, Lincoln Technical College, Honda, Universal Robotics, Miller Augmented Welder, National Guard Mobile trailer, Robotics Educational Contest Foundation (RECF), Lincoln Electric Welding, Parker Hydraulics, Allen-Bradley PLC,  Mitsubishi PLC and Omron PLC.
RAMTEC was created to provide a technically trained, highly skilled workforce to promote the creation and expansion of business and industry through robotics and advanced manufacturing technologies. To learn more about the Manufacturing Day at RAMTEC or the high school and adult training at RAMTEC (Robotics & Advanced Manufacturing Technology Education Collaborative) visit ramtecohio.com or connect with Ramey at or 740-360-8156.
Tri-Rivers RAMTEC is located on the Center Campus, 2222 Marion-Mt. Gilead Rd., Marion, OH 43302.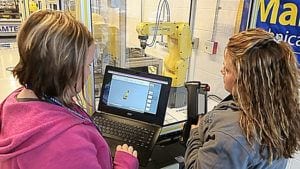 High School students prepare for industrial certification by learning how to use robot programming software both in the virtual world and hands-on with an industrial robot.
https://www.ramtecohio.com/wp-content/uploads/2016/09/ManufacturingDay-Girls1.jpg
400
1400
News
https://www.ramtecohio.com/wp-content/uploads/2015/07/Ramtec-official-logo-white-MoreWhiteLine.png
News
2016-09-27 17:41:23
2016-10-04 18:17:05
Tri-Rivers RAMTEC to host Manufacturing Day, Oct. 13